McGaugh Hall, Loading Dock Room 1439D
Mission Linen Barcode 693410
For more information, visit the EH&S Website
Laundry services for EH&S-issued lab coats are free of charge. Lab coats (personal or from other institutions including UCs) without a UCI-specific barcode will not be returned.
Lab coats at UCI are laundered by Mission Linen, a company committed to following laundering best practices and accredited by the Healthcare Laundry Accreditation Council to process textiles for hospitals and other healthcare facilities.
Lab coats are picked up/dropped off on Wednesdays (during major holidays, pick-ups and drop-offs will take place on Tuesday) by Mission Linen. For UCI Medical Center Building 55, lab coats are picked up/dropped off on Mondays
Only EH&S-issued lab coats are eligible for free laundry services.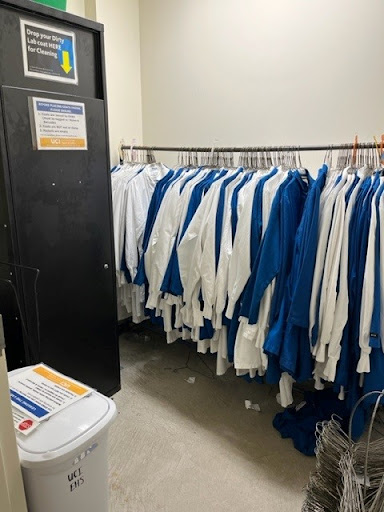 For laundry procedures, a listing of laundry locations and more information about lab coat laundry services, please refer to the Laundry Services Handout .
Lab coats must be laundered by a laundry service that adheres to Title 8, Section 5193 of the California Code of Regulations. Do not wash your lab coat at home.