About the Rooms
All autoclaves/dishwashing/drying facilities are "self-serve". You will need to provide your own supplies including detergent, foil and autoclave tape.
Autoclaves are available 24 hours per day (Except during steam shutdowns or power outages).
To report autoclave issues, or any other questions, please contact biosci-facilities@uci.edu.
Autoclaves are high temperature and pressure hazards. Autoclave training is required prior to operating an autoclave. Contact EH&S at (949) 824-6200 to schedule autoclave training. Safety glasses, heavy rubber gloves and lab coat should be worn. For assistance in glove selection, call EH&S at (949) 824-6200.
Biohazardous Waste Materials
Solid biohazardous waste materials may be autoclaved in the autoclave facility, but only if the waste is from a Biosafety Level 1 (BSL1) process. BSL2 and BSL3 derived waste must be picked up by EH&S for disposal off site.
Solid BSL1 waste must be stored in white or opaque biohazard bags. A recharge rate of $10.00 per bag is in effect. Please provide the recharge account and fund at the time the waste is brought to the autoclave facility.
For more information, visit the EH&S website
Available Autoclave/ Dishwasher Rooms
Biological Sciences III
Room 2421
2 Autoclaves, 1 Glasswasher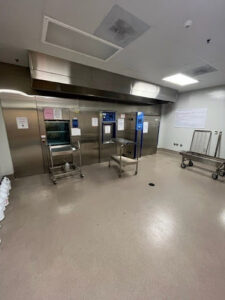 McGaugh Hall,
Room 4309
1 Fly Autoclave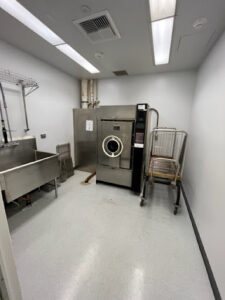 McGaugh Hall
Room 4311
5 Autoclaves, 1 Dishwasher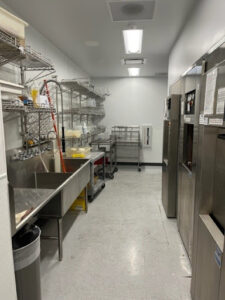 Natural Sciences I
Room 2334
3 Autoclaves, 1 Bottlewasher, 1 Dryer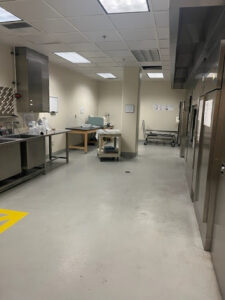 Natural Sciences II
Room 3341
6 Autoclave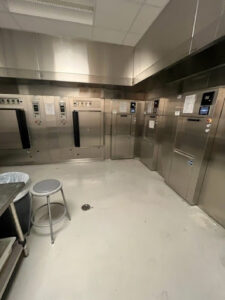 Steinhaus Hall
Room 390
3 Autoclaves, 1 Bottlewasher, 3 Dryers, 2 Dishwashers